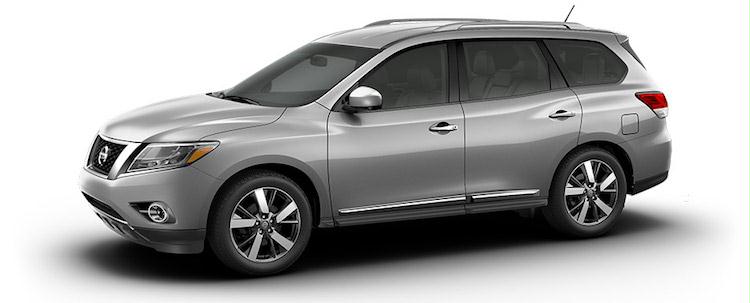 In the ongoing battle between the minivan and the SUV, the
2017 Nissan Pathfinder
emerges as a clear winner. It is a crossover that has the styling of an SUV but the safety and sensibilities of a minivan.
Though it's a great compromise for families who are having a hard time deciding between the two popular options, buyers will not have to compromise on the quality or performance they get from the all-new Pathfinder.
The 2017 Nissan Pathfinder is already racking up accolades, and we're selling these models at a brisk pace here at AutoFair Nissan of Chelmsford, MA. If you want to grab one of these popular crossovers, you should schedule your test drive now.
View 2017 Nissan Pathfinder Inventory
Unmatched Safety for Families
One reason that minivans are so popular among families is that they offer plenty of seating and cargo space without sacrificing safety features. With the 2017 Nissan Pathfinder, you get all the safety features you want in the more stylish and spacious SUV format.
Some of the standard features on the 2017 Pathfinder include antilock disc brakes, airbags that cover all three rows of seating, and traction and stability control.
Move beyond the base trim level and you'll get features like rear parking sensors, a rearview camera, a blind-spot monitoring system, and rear cross-traffic alert. The Platinum trim level includes a surround-view camera system that ensures you have full view around the Pathfinder.
Thanks to these safety features and its superior design, the 2017 Nissan Pathfinder was awarded a five-star overall rating by the National Highway Traffic Safety Administration, as well as "good" ratings from the Insurance Institute of Highway Safety.
With the Pathfinder, you'll feel secure in driving your family to and from school as well as on long road trips across the Massachusetts countryside.
The 2017 Nissan Pathfinder offers the coveted three rows of seating that are so sought after in family vehicles. Without that third row, most SUVs are nothing more than oversized sedans in terms of seating capacity.
But the all-new Pathfinder doesn't just squeeze in an extra row at any cost to interior space of comfort. You'll find three full rows of luxury inside the Pathfinder.
High-quality materials are used throughout, and the seats are designed with comfort in mind. Front seats are adjustable multiple ways to get just the right fit, while the second row of seats can be slid forward or back, as well as reclined. The third row is designed with smaller passengers in mind, but it is still a comfortable space with plenty of head room and more overall room than most competitors offer.
The second row also folds to give parents more room when installing car seats or storing gear in the third row.
Some of the fun interior features include a rear entertainment system that plays DVDs, can be connected to a gaming system, or can show off photos; a driver infotainment system that includes voice controls, hands-free calling, navigation, and a premium audio system; and tri-zone entertainment that allows front and rear passengers to focus in on different media.
With higher trim levels, you get perks like cooled seats and more advanced audio.
You won't have to sacrifice power to get all those features in the 2017 Nissan Pathfinder. The SUV still handles like a dream and has the power you'll need to get out of a tough spot if you find yourself in one.
The basic power train includes a 3.5-liter V6 engine that has 260 horsepower and 240 pounds per feet of torque. Pair that with the continuously variable transmission and the available four-wheel drive system and you'll feel like a king on the road. The icy Massachusetts streets or rocky country roads will feel like butta beneath your wheels.
Not only will you feel safer in the new Pathfinder, but you'll have more fun driving it than the standard minivan or even competitor SUVs.

There's nothing quite like your first experience with the 2017 Nissan Pathfinder -- you'll fall in love!
Call AutoFair Nissan in Chelmsford, MA to schedule a test drive of the new Pathfinder and start your own love affair. Bring the whole family so that you can get a feel for what a long drive with the whole clan will be like in the new Pathfinder. You'll love the way the Pathfinder handles, and your family will love the ride they have in it.
At AutoFair Nissan, we work with a variety of lenders to ensure that you have the financing options you need to drive away with the new Pathfinder you want. Visit us today to explore your options or to learn about our current financing specials.
View 2017 Nissan Pathfinder Inventory