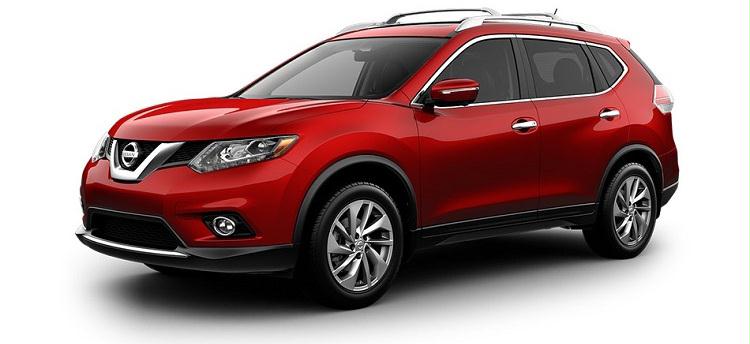 The crossover segment has become increasingly crowded, but the
2017 Nissan Rogue
manages to stand out above the rest. The family friendly SUV offers reliable performance, handsome styling, and comfortable features that the whole family will enjoy, and it offers it all on a family friendly budget.
The all-new Rogue continues with the tradition that Nissan has built for itself as a dependable and stylish vehicle that isn't out of reach for most buyers. With the Rogue, Nissan shows that it is a contender in the crossover market.
AutoFair Nissan of Chelmsford, MA has a full selection of the 2017 Nissan Rogue, and we offer some of the best prices of any Nissan dealer in Massachusetts. You'll find everything you need for a great car-buying experience.
View 2017 Nissan Rogue Inventory
Style and Function Together at Last
With many SUVs, you have to choose between style and function. If an SUV has a distinctive style, it is often lacking on performance or features. If it has solid performance or a laundry list of features, it's often lacking in style.
The 2017 Nissan Rogue is the perfect partnership of style and functionality, ensuring that you get everything you want and need in one great package.
The new Rogue has an upscale look that is sophisticated yet conservative at the same time. It has a polished look without being too flashy, which will make you feel good about driving it when you're by yourself as well as when you're rolling up to the dropoff line at school. There is just enough body sculpting and accent details to offer interesting visual appeal without creating too much fuss.
Inside, you'll find cutting-edge features like a 360-degree around-view monitor, a divide and hide cargo system that provides 18 possible storage variations, and an infotainment system with voice control and a 7-inch touch screen. The Rogue drives like a dream, and it has all the safety and convenience features you could want in an affordable crossover.
View 2017 Nissan Rogue Inventory
Efficiently Powerful
SUVs have to straddle a fine line: People who buy them are looking for power, but providing that power often comes at the price of fuel efficiency. The 2017 Nissan Rogue manages to straddle that line by offering enough power for deft performance without sacrificing too much fuel efficiency.
The new Rogue comes with a 2.5-liter four-cylinder engine that offers 170 horsepower and 175 pounds per feet of torque. That's enough to provide the get up and go you need for agile performance.
Meanwhile, you'll enjoy 26 mpg in the city and 33 mpg on the highway, which won't make you wince at the pump.
If you feel like you need more control for when inclement weather like summer thunderstorms and winter snows strike Massachusetts, you can add the optional all-wheel drive. You'll gain more traction but will only lose a gallon on fuel efficiency.
View 2017 Nissan Rogue Inventory
Of course, an SUV that you're going to spend untold hours in over the years will need to be comfortable for you and your family. The 2017 Nissan Rogue has plush seating and numerous other features that ensure a comfortable ride for all passengers.
The six-way driver's seat ensures that you get just the right position for your personal preferences. Higher trim levels add lumbar support, heated front seats and leather upholstery that improves comfort.
Dual-zone climate control ensures that everyone in the cabin is comfortable, no matter where they are seated. Rear privacy glass blocks out the glare of the sun while also keeping prying eyes from children who are likely to be seated in the back.
A premium audio system provides superior in-cabin entertainment, which makes Massachusetts road trips more enjoyable, especially when traveling with the family.
Fine-tuned suspension keeps the bumps to a minimum, and noise-canceling design ensures a quieter ride.
View 2017 Nissan Rogue Inventory
Fall in Love with the 2017 Rogue in Massachusetts

The best way to understand what the 2017 Nissan Rogue has to offer is to drive it for yourself. Schedule a test drive of the new Rogue at AutoFair Nissan of Chelmsford, MA, and explore our extensive inventory to learn about all of the available options.
At AutoFair Nissan in Chelmsford, we are committed to providing the best service of any Massachusetts Nissan dealership. Our associates spend time getting to know you and exactly what you need in a vehicle to make the right recommendation of model and options.
We start putting together financing options as soon as you schedule a test drive, ensuring that you are able to get the right terms to meet your budget and allowing you to make a decision in a timely manner.
View 2017 Nissan Rogue Inventory