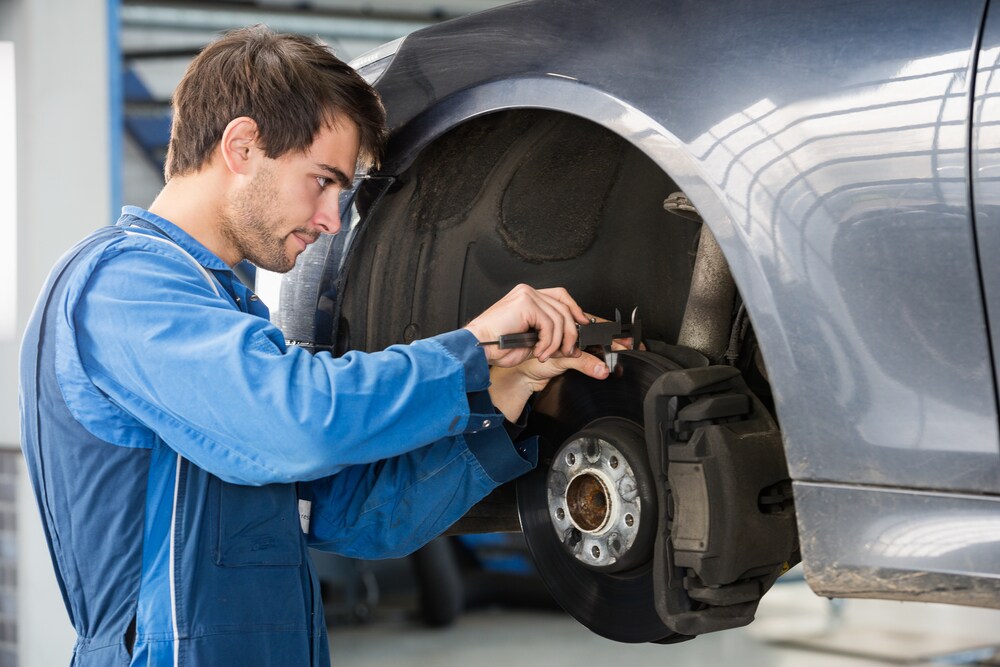 At AutoFair Nissan of Chelmsford, Massachusetts your brakes are important to us because we knowthey are some of the hardest working parts on your car. Because we do know this we'll take meticulous care of your braking system. 
Our service department is staffed with highly trained and experienced Nissan certified technicians and mechanics who can handle any vehicle maintenance you Nissan, (or whatever vehicle you drive) requires. 
We know when it comes to your brakes they may save your life or the lives of others some day. That's why you should entrust your brakes to us. 
Schedule a Service Here
If your brake pedal has been traveling noticeably farther to the floor when you step on it or it has a strange spongy feel as you depress the brake you probably want to schedule a brake inspection with our service department at AutoFair Nissan of Chelmsford, MA as soon as you can. 
However, if you hear a squealing sound or your whole front end shakes whenever you apply the brakes you've waited far too long and urgently need brake repair. Once the caliper locks it's usually because your brake pads are worn away completely to the brake shoes and they are now metal to metal with your brake rotors. That's not a good place to be in unfortunately but our trained and Nissan certified brake technicians have got you covered and they can handle that complicated repair. 
We'll make sure you get a fair estimate before we begin and we'll always try to get you the guaranteed lowest price possible. Once one or both brake calipers lock you can bet that's going to affect your mileage for sure. These are things we're well aware of and we can help you avoid all together. Your safety and the safety of others on the road is always a important concern to us.
Early signs that you might be braking a little too hard is the presence of brake dust on your wheel rims. That's most likely caused by undo wear on your tires. Once your tires don't have proper traction due to wear it can make you brake harder more often so when you're in getting your brakes inspected we'll look at the general condition of your tires since under inflated tires can affect your mileage costing you money but can also cause tires to wear faster costing you even more money eventually. 
Our service department at AutoFair Nissan of Chelmsford, MA are fast, friendly and thorough so we know what to look for and check. We'll get you in and out as quickly as possible. Your safety and satisfaction are what matter most to us. That's why your service is our service at AutoFair Nissan of Chelmsford, MA.