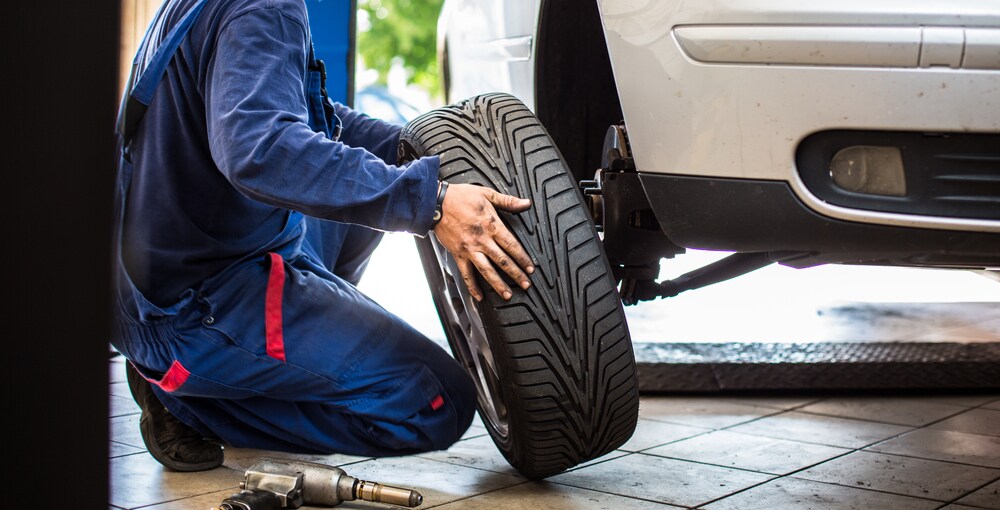 Your tires are an important part of your vehicle and at AutoFair Nissan of Chelmsford, Massachusetts our Nissan certified tire technicians are dedicated to maintaining the overall condition of your tires. 
That's because we know improperly inflated tires with low tire pressure can wear prematurely, affect your mileage and create unsafe driving conditions for you and others on the road. In fact, worn tires can make you brake harder more often and put stress on your brakes, some of the hardest working parts in your car and even make your brake pads wear prematurely. 
An early sign that your brake pads may be wearing prematurely is the presence of excessive brake dust residue on your wheel rims. If you notice this, take a look at your tires. They may be unevenly worn in front and that could mean you need an alignment, too. Don't wait - schedule a service appointment with our expertly trained staff today.
Schedule a Service Here
You should never really use fix a flat to repair a tire really because it's a quick fix that will damage your tire permanently, preventing any future possible repair on the tire. That tire would simply just have to be replaced after it's been repaired with fix a flat. 
Patching a tire is a better solution but for the uninitiated it can turn out to be more of a chore than if you just took the tire in. Plus if you're going to try to patch a tire you may not be aware that the puncture would have to be toward the center of the tire. 
This is due to the tough resin used for the patch would expand and conform completely to the puncture making the tire air tight once more.  So if the puncture is on the outer or inner edge it will not effectively repair the tire at all. 
Schedule a Service Here
Our Nissan certified tire technicians at AutoFair Nissan of Chelmsford, MA will make sure your Nissan is always matched with the recommended size tires for you vehicles if it comes down to replacing any of your tires. We'll give you a fair estimate while giving  you our guaranteed low price. 
We'll make sure the rest of your tires are properly inflated with the recommended pressure before you leave. If your vehicle is equipped with a tire pressure monitoring system, your best practice is not ignore the audible notification or warning light if it receive one. Don't wait too long to take care of your tires as you'll be owing your gas milage and if you wait too long you might even end up with a bigger repair bill down the road. We certainly want to keep you safe and help you avoid the more expensive repair bills. 
We want you to entrust your tires to us because we care about your safety and satisfaction. After all your service is our service at AutoFair Nissan of Chelmsford, MA.